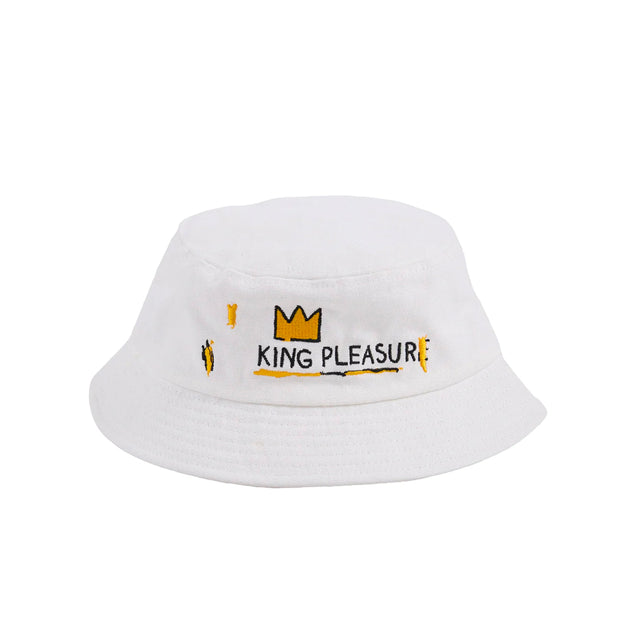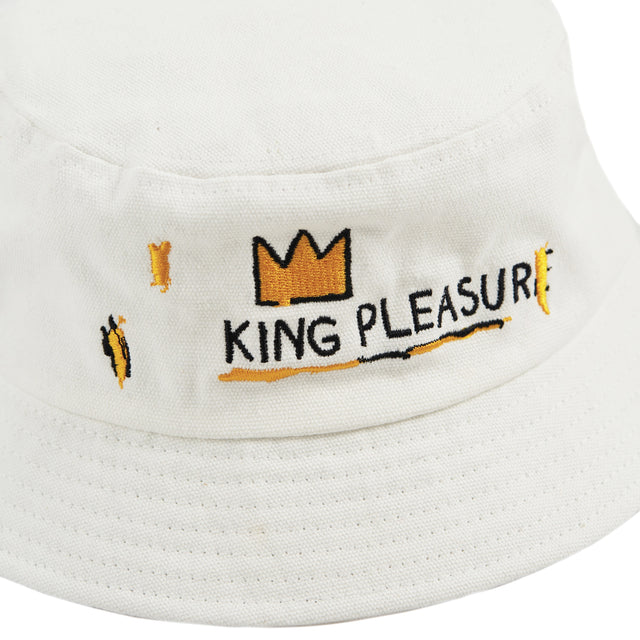 Basquiat King Pleasure© Bucket Hat - Off White
This all-cotton bucket hat features Jean-Michel's iconic crown embroidered across the center front in gold and white.
The crowns in Basquiat's work serve as a reminder of the resilience and determination of the human spirit, and they continue to inspire and uplift his fans today. The words "King Pleasure" also appear referencing his 1987 artwork as well as the acclaimed exhibition curated by Jean-Michel's family.
Product details:
100% Cotton 
Wide-stitched brim
Durable construction  
About the artwork:
Basquiat's Iconic Crown 
For Jean-Michel, the crown represented the struggle for power and recognition, particularly for marginalized communities. By incorporating crowns into his paintings and drawings, he celebrated the strength of these groups, while also critiquing the systems that sought to oppress them.
King Pleasure, 1987
King Pleasure is the title of a painting created by Jean-Michel in 1987 and the name of a bebop-loving bartender turned jazz vocalist whose first hit, in 1952, "Moody's Mood For Love," catapulted him to fame. The song was a favorite of the WBLS DJ Frankie Crocker, who played it at the close of his show every night in the 1970s. Gerard Basquiat, Jean-Michel's father, was also fond of the tune.
The Jean-Michel Basquiat King Pleasure Exhibition
King Pleasure also refers to the highly acclaimed Jean-Michel Basquiat King Pleasure exhibition that was organized and curated by the family of Jean-Michel Basquiat, currently on exhibit in Los Angeles after its initial New York City run. The groundbreaking show includes over 200 never-before-seen and rarely shown paintings, drawings, multimedia presentations, ephemera, and artifacts that tell the story of Jean-Michel from an intimate perspective, intertwining his artistic endeavors with his personal life, influences, and the times in which he lived.
© Estate of Jean-Michel Basquiat  Licensed by Artestar, New York