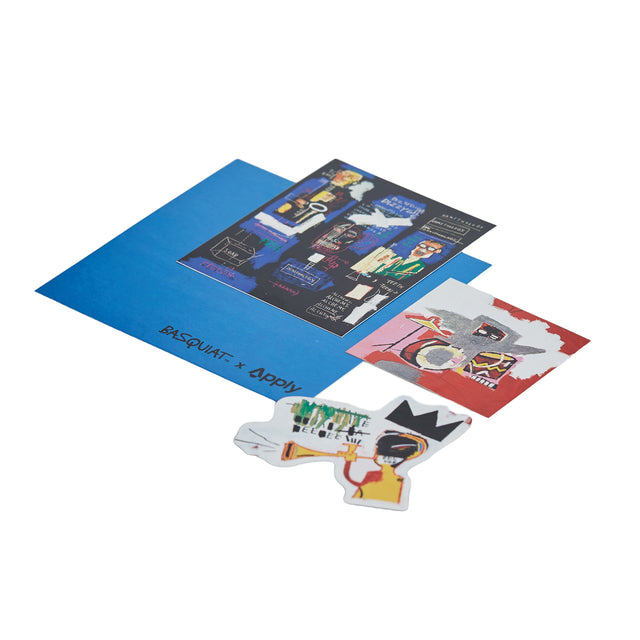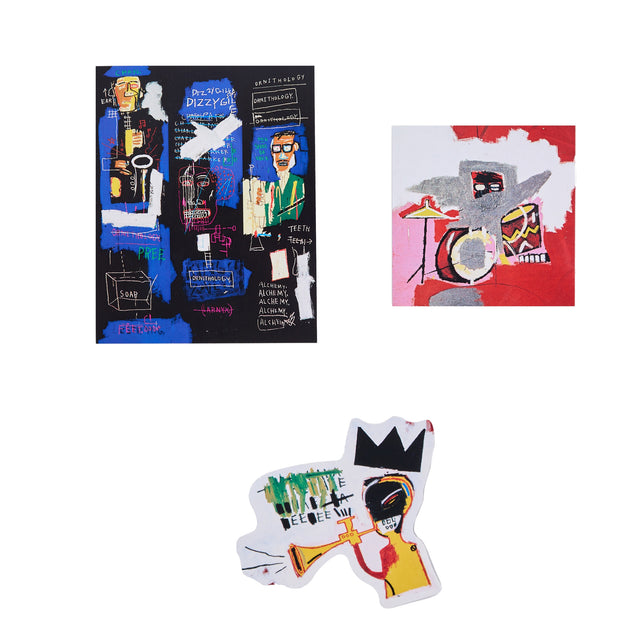 Basquiat Jazz Pack Sticker 3 piece Sticker Pack
Bring back old-school style with unique die-cut stickers. These three designs showcase Jean-Michel's homage to his favorite jazz legends, Charlie Parker, Dizzy Gillespie, and Max Roach. Made with premium vinyl, these colorful, eye-catching stickers jazz things up in true Basquiat style.
Product details:
Premium die-cut vinyl

Three stickers

Assorted sizes

Made in the USA
About the artwork
Jean-Michel Basquiat, Horn Players, 1983
With acrylic and oil sticks, Jean-Michel painted an homage in three canvas panels to his jazz heroes, Charlie Parker and Dizzy Gillespie, which he immortalized with their instruments of choice, an alto saxophone and trumpet, respectively. An avid fan of music across many genres, Jean-Michel even started a band called Gray, named after the classic anatomy book.
Jean-Michel Basquiat, Trumpet, 1984
A fine example of neo-expressionism at its best, Jean-Michel's masterpiece, Trumpet (1984), captures his fiery passion for jazz and bebop, one can practically hear the trumpet music exploding from the canvas. The piece also features Jean-Michel's crown hovering above the trumpet player as Jean-Michel's unique way of ascribing royalty to the jazz musicians he revered. 
Jean-Michel Basquiat, Max Roach, 1984
Jean-Michel painted this shocking, vibrant and almost-abstract artwork in honor of American jazz drummer, Max Roach, who was a pioneer of bebop and is considered one of the most important drummers in history. Just like Basquiat, Roach was also known to infuse his creative output with social commentary. 
© Estate of Jean-Michel Basquiat Licensed by Artestar, New York