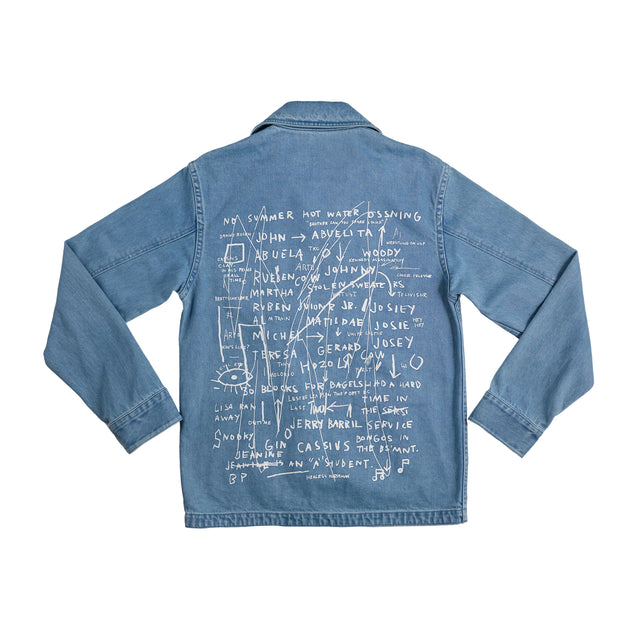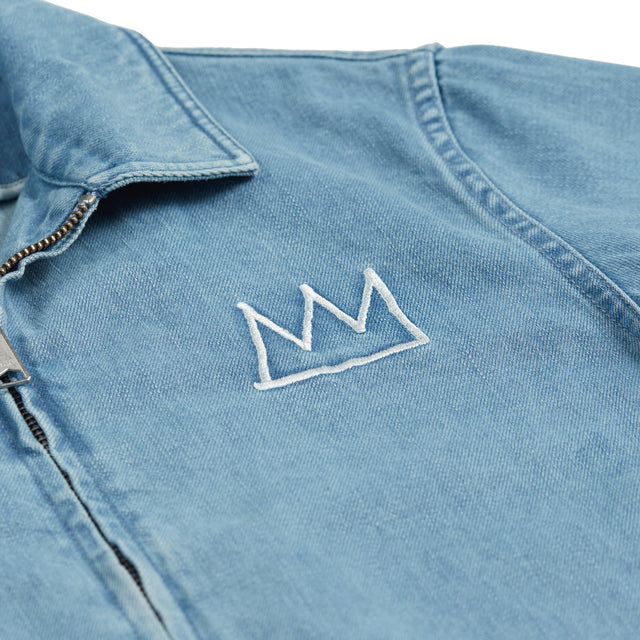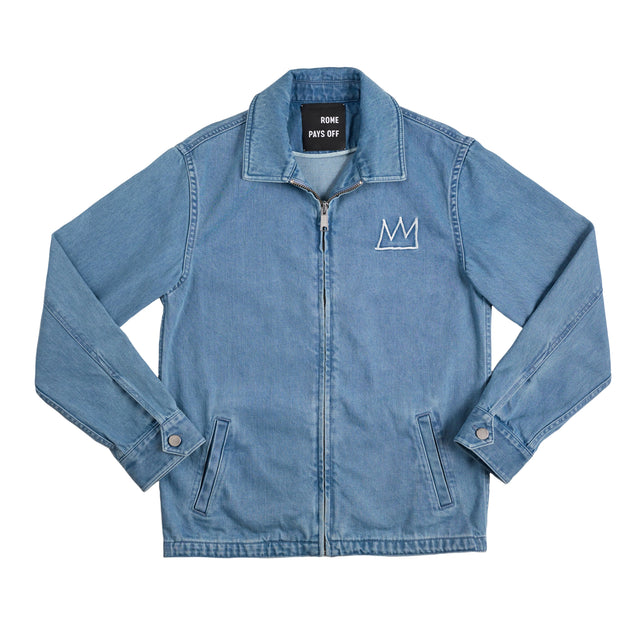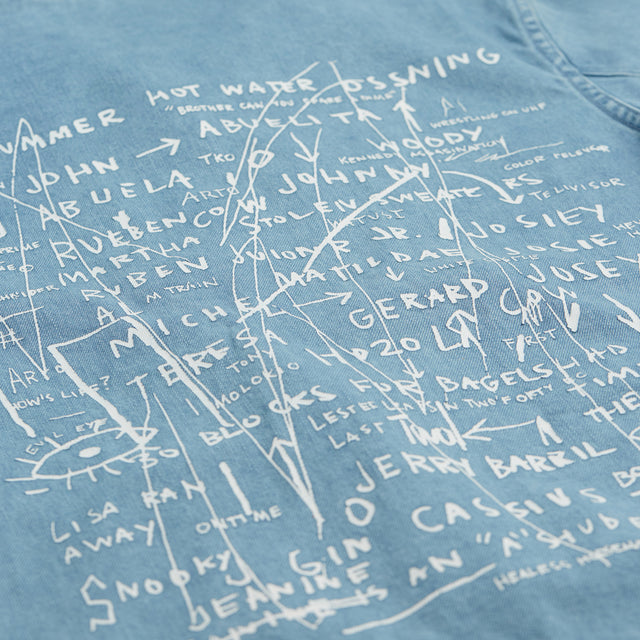 Basquiat Untitled Denim Jacket
This medium-weight denim jacket is in a light wash and has clean lines with a comfortable fit. It features two front pockets, double YKK zipper, and a classic collar with finished seams on the inside. Embroidered on the left front is Basquiat's iconic crown, a symbol of resilience and determination.

The back features one of Jean-Michel's most family-centric artworks, Untitled (No Summer Hot Water Ossning). Filled with personal meaning, the piece includes references to family, friends, and other influences in young Jean-Michel's life at the time.
Product details:
Gender Neutral

100% cotton canvas shell with cotton poplin lining



Zipper front
Button snap cuffs

Double YKK zipper

Size: XS-XXL

Made in Portugal
About the artwork:
Front – The iconic Basquiat crown
For Jean-Michel, the crown represented the struggle for power and recognition, particularly for marginalized communities. By incorporating crowns into his paintings and drawings, he celebrated the strength of these groups, while also critiquing the systems that sought to oppress them.
The crowns in Basquiat's work serve as a reminder of the resilience and determination of the human spirit, and they continue to inspire and uplift viewers today. They remind us we all have the strength to rise to greatness.
Back – Untitled, (No Summer Hot Water Ossining) 
"Jean-Michel always had a strong regard for tribal history and familial connections. This work reads like a Jean-Michel version of a genogram. Some information about the references: "Woody" Worthy was a friend of our father's and he lived in Ossining.
'Bongos in the basement' referred to our maternal grandfather and his friends who would have jam sessions in the basement. We would hang out on top of the steps and listen from upstairs. Josie was our maternal uncle. Snooky was a reference to me. Josey was in the army, Johnny served in the navy, and Abuelo, our grandfather, was a Merchant Marine."  – Lisane Basquiat 
© Estate of Jean-Michel Basquiat  Licensed by Artestar, New York