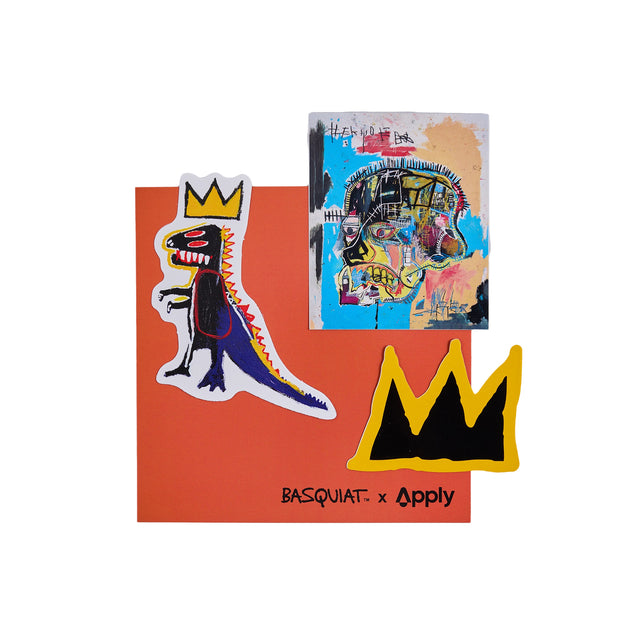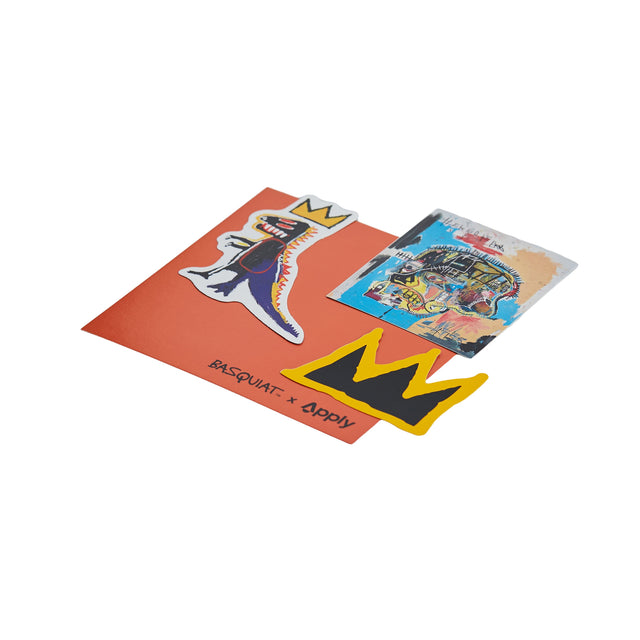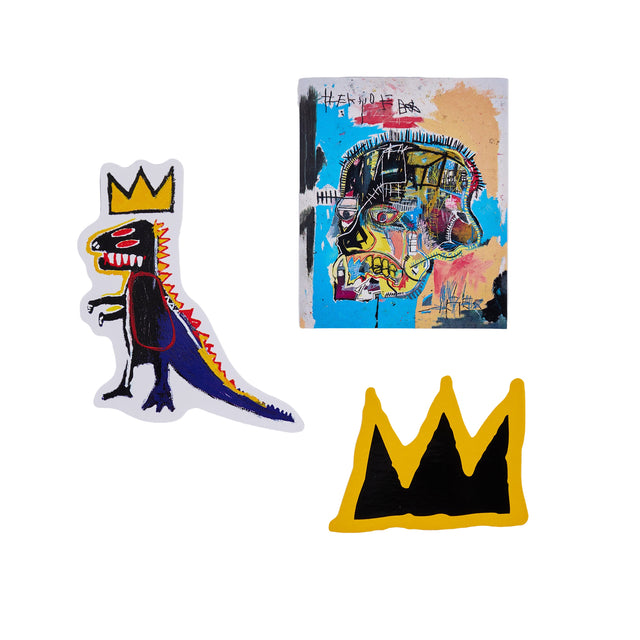 Basquiat Greatest Hits Sticker Pack (3pc)
Elevate your favorite things with stickers featuring Jean-Michel's most iconic art. These fun, premium vinyl stickers celebrate Jean-Michel's iconic artworks Pez Dispenser (1984), as well as Crown and Untitled Head, (1982). These stickers look great on everything from suitcases, to smartphones, laptops and anything else you want to make your own. 
Product details:
Features three iconic Basquiat artworks: Pez Dispenser (1984), Crown, and Untitled (Skull) 1982

Material: Vinyl

Dimensions: 5 x 5 inches 
About the artwork:
Jean-Michel Basquiat, Pez Dispenser, 1984
In this work, Jean-Michel Basquiat explores the theme of popular culture and his memories of childhood by featuring a dinosaur adorned with the artist's trademark crown symbol. The title references the candy company Pez and its dispensers that come shaped like pop culture characters. Here, Basquiat masterfully draws attention to the pervasive nature of consumer culture in 1980s America. 
Basquiat's Iconic Crown
For Jean-Michel, the crown represented the struggle for power and recognition, particularly for marginalized communities. By incorporating crowns into his paintings and drawings, he celebrated the strength of these groups, while also critiquing the systems that sought to oppress them. 
Jean-Michel Basquiat, Untitled (Skull), 1982
Many consider the heads Basquiat painted as some of his most autobiographical work. Deeply rooted in his identity as a Black artist in America, Jean-Michel's use of heads and skulls are evocative of African masks and also allude to his father's Haitian heritage.
© Estate of Jean-Michel Basquiat Licensed by Artestar, New York