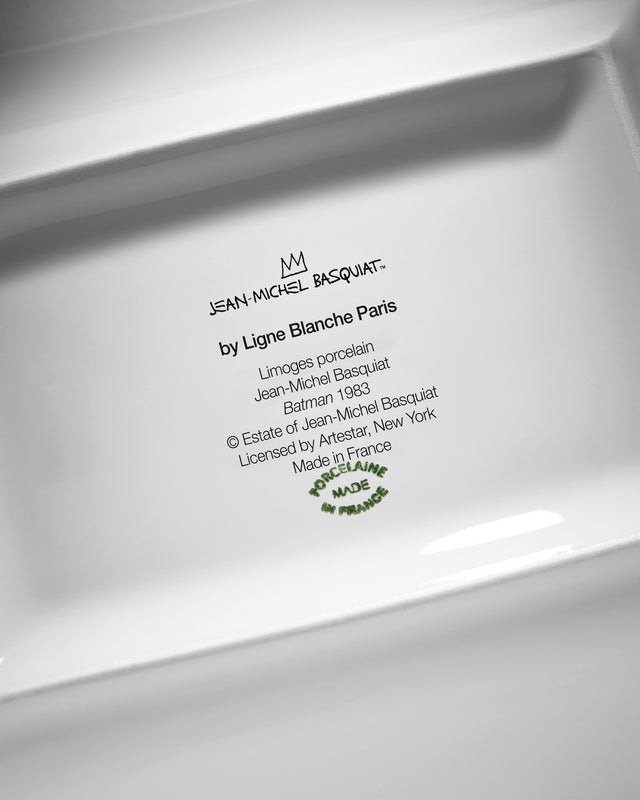 Basquiat Porcelain Tray, Batman (1983)
This exceptional Basquiat Batman tray from Ligne Blanche features a rectangle shape, all-over graphic print, on white porcelain. The design is based on the artwork "Batman"  1983 by Jean-Michel Basquiat. Perfect for anyone who appreciates art and pop culture, this special piece comes beautifully presented in a Ligne Blanche gift box. 
Product Details:
Made in France.
Crafted from Limoges porcelain.
Based on Jean-Michel Basquiat's 1983 work, "Batman"
Hand washing recommended
Dimensions: 7.87" x 6.29" 

 
About the artwork:
Jean-Michel Basquiat, Batman, 1983
Created using an oil stick on paper in 1983, Jean-Michel created this artwork during a time when he had already gained considerable acclaim in New York's art scene. By reinterpreting cartoon imagery with his unique, raw, and expressive style, "Batman" stands as one of Basquiat's first works dedicated solely to the caped crusader.
© Estate of Jean-Michel Basquiat  Licensed by Artestar, New York