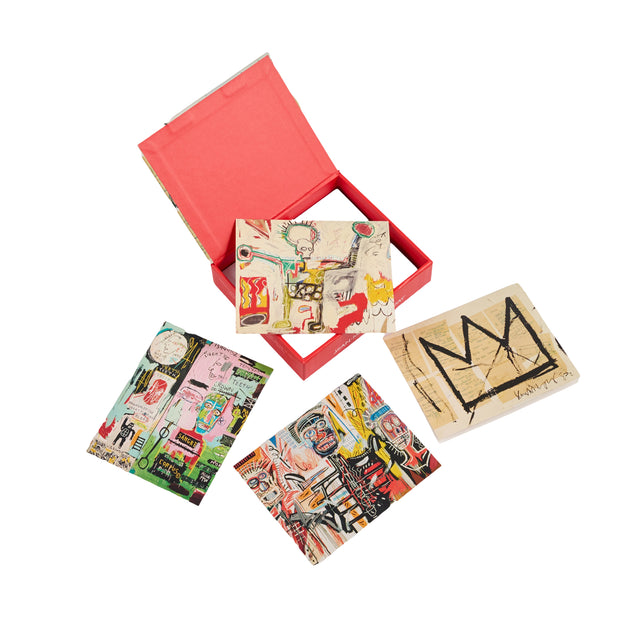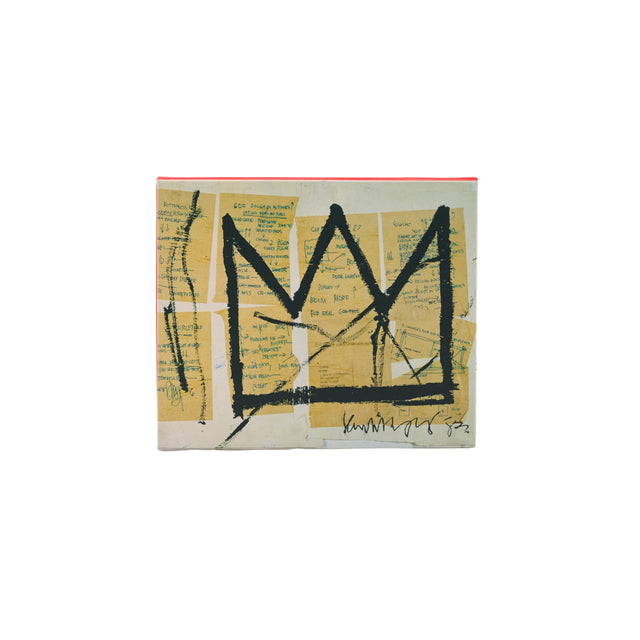 Basquiat Boxed Postcard Set
Compliment your handwritten notes with four of Jean-Michel's most celebrated artworks. These premium postcards, and notecard set with envelopes, are housed in a reusable sleek box with a magnetic closure. Bold, vibrant and unmistakably Basquiat, these notecards are sure to be saved and appreciated.
Product details:
20 Note cards & envelopes

5 postcards of each work

Reusable box with magnetic closure

Dimensions:

5.48 x 7.38 Inches
About the Artwork:
Jean-Michel Basquiat, Untitled (Crown), 1982.
For Jean-Michel, the crown represented the struggle for power and recognition, particularly for marginalized communities. By incorporating crowns into his paintings and drawings, he celebrated the strength of these groups, while also critiquing the systems that sought to oppress them.
Jean-Michel Basquiat, In Italian, 1983. 
By combining imagery and texts in his art, Jean-Michel Basquiat's works made reference to his influences from popular culture including cartoons, comic books, and advertisements to an education and curiosity in anatomical drawings, history and classic works of art, literature, and music. In Italian depicts many of these symbols including the profile of George Washington on the quarter, Latin verse, and the words "Crown of Thorns."
Jean-Michel Basquiat, Philistines, 1982.
In this masterpiece from 1982, Jean-Michel depicts three figures -- each one more vigorously rendered than the next -- in a frenzied melange of bold color and deliberate brushstrokes which, as its title suggests, represent the Philistines, who are often considered as the antagonists in the bible (i.e., Goliath). 
Jean-Michel Basquiat, Untitled, 1982.
Here, Jean-Michel depicts the central figure -- a boxer with arms outstretched -- as both triumphant victor and revered saint. Over the years, Jean-Michel paid homage to numerous black personalities who, despite their success and accomplishments, were rendered oblivious in history, and through his artwork, sought to reclaim the honor that history had denied them. 
© Estate of Jean-Michel Basquiat Licensed by Artestar, New York