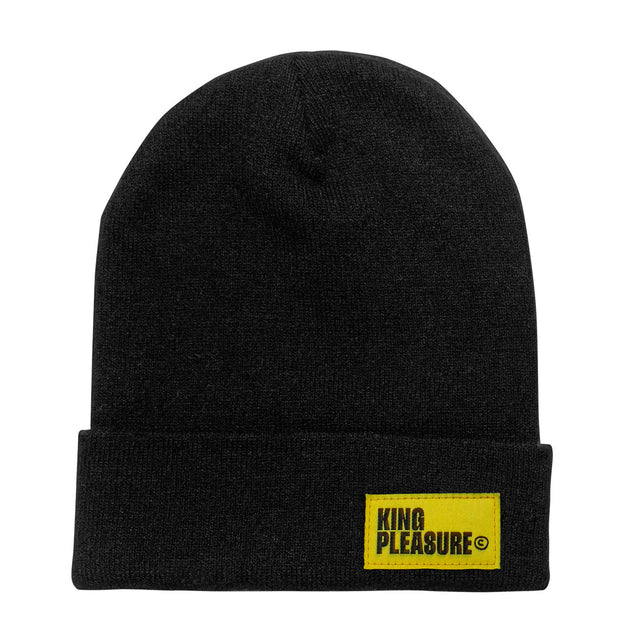 Basquiat King Pleasure© Adult Knit Hat
Celebrate the Jean-Michel Basquiat King Pleasure© Exhibition with this official knit cap. Featuring the exhibition's bold identity in yellow across the front, this warm black hat commemorates the only major exhibition to ever have been curated by the artist's family.  
Product details:
Acrylic knit
Machine wash
Black
One size
About the artwork:
Basquiat's hand-drawn Copyright symbol
The copyright symbol "©" can be found frequently in the works of Jean-Michel Basquiat, whether it be in his notebook texts or larger compositions. This symbol serves as a means for him to assert ownership over words and ideas, as well as a commentary on consumer culture. He used the symbols as a way to challenge the traditional power dynamics in the art world, where the artist's rights are often not protected. By incorporating the symbol into his work, he was making a statement about the importance of recognizing and valuing the contributions of Black artists, who have been historically marginalized. Additionally, The copyright symbol represented a commentary on consumer culture and the commodification of art and ideas in the world.
The Jean-Michel Basquiat King Pleasure Exhibition
King Pleasure also refers to the highly acclaimed Jean-Michel Basquiat King Pleasure exhibition that was organized and curated by the family of Jean-Michel Basquiat, currently on exhibit in Los Angeles after its initial New York City run. The groundbreaking show includes over 200 never-before-seen and rarely shown paintings, drawings, multimedia presentations, ephemera, and artifacts that tell the story of Jean-Michel from an intimate perspective, intertwining his artistic endeavors with his personal life, influences, and the times in which he lived.

© Estate of Jean-Michel Basquiat  Licensed by Artestar, New York