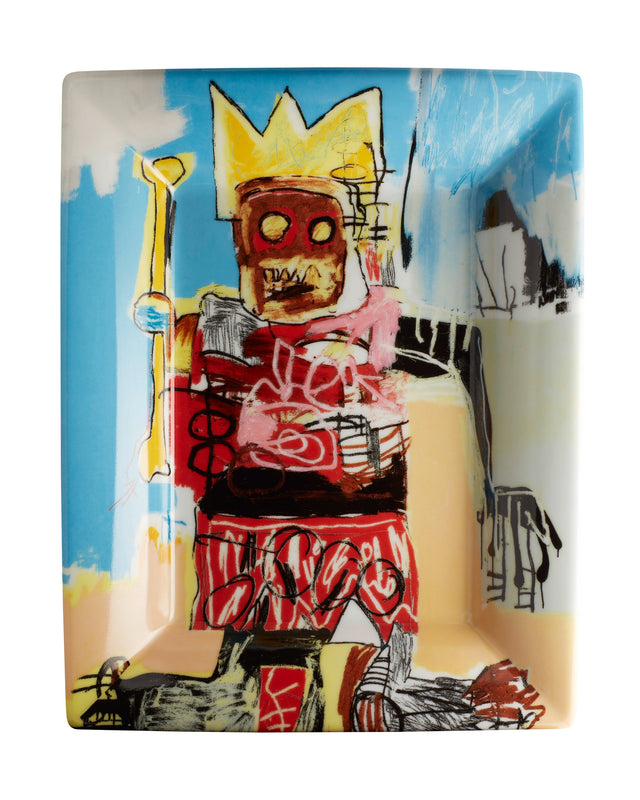 Basquiat Porcelain Tray, Untitled, 1982
This captivating Limoges porcelain tray, crafted in Paris by Ligne Blanche showcases Jean-Michel Basquiat's celebrated 1982 artwork Untitled. The piece features a central figure wearing a three-pointed crown, a distinctive motif that emerged during Jean-Michel's street artist days. The verso shows details about the tray and the artist's stamped signature. This tray makes an exceptional gift for fans of art and culture alike. 
Product Details:
Dimensions:

7.87″ x 6.30″ x 1″

Material: Glazed Limoges porcelain
Arrives in Ligne Blanche gift box
Made in France
Care instruction: Hand wash
About the artwork:
Jean-Michel Basquiat, Untitled, 1982
In Jean-Michel's Untitled, a bold figure emerges, showcasing the artist's knack for creating resonant, visually arresting imagery. This acrylic and oilstick on wood panel masterpiece melds line, color, and form to craft a figure that's part classical anti-hero, part king, and wholly captivating. Untitled is more than a self-portrait—it's a celebration of overcoming odds in a challenging world, embodying both victory and vulnerability in every stroke.