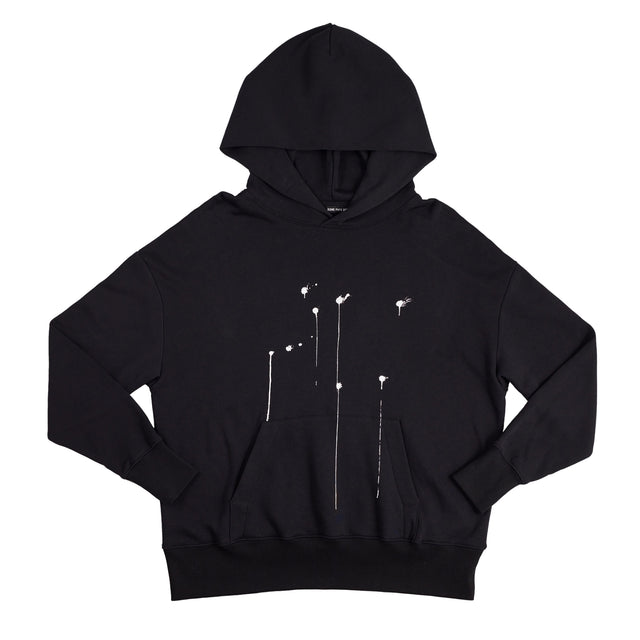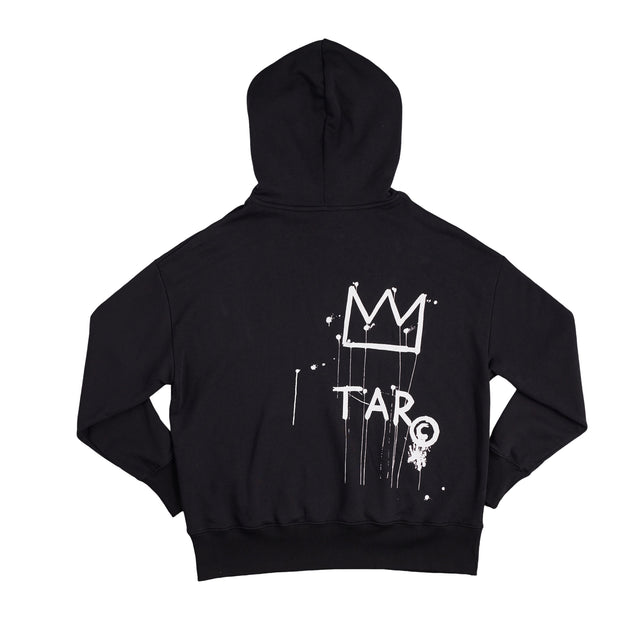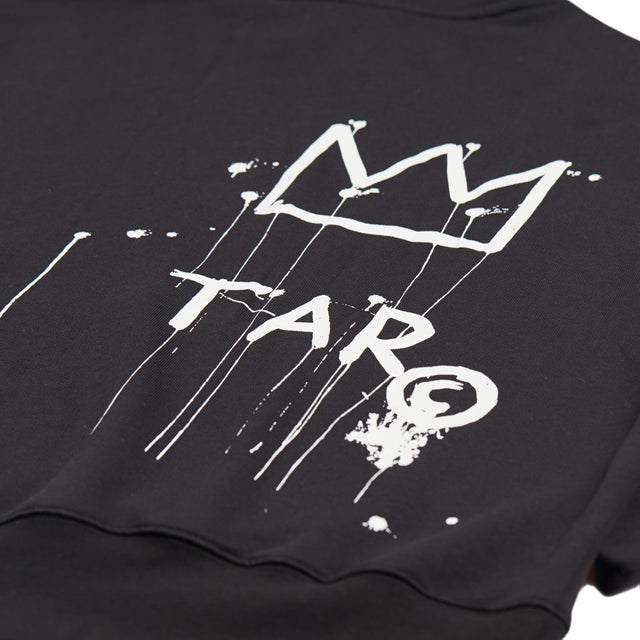 Basquiat Hoodie Tar and Crown
This eye-catching black hoodie showcases some of Jean-Michel's mot popular graphic references from his iconic crown, to spray paint elements echoing his early days as a young graffiti artist in 1970's New York City. Also featured is his usage of the word "tar" with its myriad of cultural connotations.
The soft blended fleece construction will keep you feeling good inside and out as you represent the timeless influence of Basquiat's work. Wear it with pride and feel connected to a legend who broke through cultural barriers and rose to the top of the art world.

Product details:
Gender Neutral

100% cotton construction

Oversize Hood
Ribbed cuffs and waist

Made in Portugal
About the artwork:
Untitled (Tar), n.d. 

Created in acrylic on wood in a turquoise-painted frame, this piece includes the word Tar, the iconic Basquiat crown and a hand-hewn copyright symbol. Spots of black spray paint (some with drips) reference Jean-Michel's early years as a prolific New York City graffiti artist.
Basquiat's Iconic Crown
For Jean-Michel, the crown represented the struggle for power and recognition, particularly for marginalized communities. By incorporating crowns into his paintings and drawings, he celebrated the strength of these groups, while also critiquing the systems that sought to oppress them.
The crowns in Basquiat's work serve as a reminder of the resilience and determination of the human spirit, and they continue to inspire and uplift viewers today. They remind us we all have the strength to rise to greatness.
Front – Basquiat's hand-drawn Copyright symbol
The copyright symbol "©" can be found frequently in the works of Jean-Michel Basquiat, whether it be in his notebook texts or larger compositions. This symbol serves as a means for him to assert ownership over words and ideas, as well as a commentary on consumer culture. He used the symbols as a way to challenge the traditional power dynamics in the art world, where the artist's rights are often not protected. By incorporating the symbol into his work, he was making a statement about the importance of recognizing and valuing the contributions of Black artists, who have been historically marginalized. Additionally, The copyright symbol represented a commentary on consumer culture and the commodification of art and ideas in the world.
© Estate of Jean-Michel Basquiat  Licensed by Artestar, New York